Friday Afternoon Computing Center Seminar
Pizza Predictor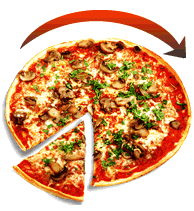 Athens Pizza, 1431 Clairmont Road
Pizza prediction for

Friday
Click the calendar icon to find the pizza rotation for weeks other than the current one.
The calendar is good from 2016 to 2099. Prior dates back to 2000 work, but may be inaccurate because the pizza list has changed over time.
Bacon or Canadian bacon, onions, and mushrooms
Sausage and mushrooms
Pepperoni and mushrooms
Hawaiian: bacon, double pineapple
Mexican: ground beef or sausage, cheddar cheese, and banana peppers
Greek: Athens Special
Alternatives for special occasions:
Sausage & anchovies
Chicken & roasted garlic
The Last Seminar at Everybody's
People from the Emory University Computing Center, plus a few hangers-on like Brown, started meeting for beer and pizza at Everybody's Restaurant in spring of 1972. There's been at least one of us there every Friday that the restaurant was open for over 40 years. Alas, Everybody's closed in March, 2013. We gathered at EB's for the last time on March 15. All the regulars were there, plus Greg and Carol. We took over George and Della's table, which was OK, I guess, because they weren't there. The plaques went home in the trunk of Brown's car. They were stashed someplace safe until the new restaurant opened.
The Plaques Return
The two plaques commemorating the twelfth and thirtieth anniversaries of the Friday Afternoon Computing Seminar are back in their accustomed place above the seminar table at The Restaurant Formerly Known as Everybody's. There's a new restaurant, Slice and Pint, in the same building. The new owners seemed happy to have us, and were gracious enough to put the plaques back in their place for us. Thank you, Slice and Pint!
Unhappily, Slice and Pint is too loud for us old, deaf types and our regular table was too often occupied by others. We've moved on, but the plaques are still there.
The inscription on the 30 year plaque is: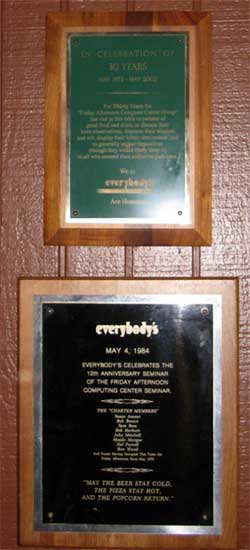 IN CELEBRATION OF
30 YEARS
May 1972 – May, 2002


---

For thirty years the
"Friday Afternoon Computer Center Group"
has met at this table to partake of
good food and drink, to discuss their
keen observations, to dispense their wisdom
and wit, display their lovely irreverence, and
to generally endear themselves
(though they would likely deny it)
to all who have crossed their collective path here.

We at
Everybody's
are honored.
The inscription on the 12 year plaque is:
EVERYBODY'S
May 4, 1984

Everybody's celebrates the
12th Anniversary Seminar of the Friday Afternoon
Computing Center Seminar

---

The Charter Members
Susan Ament
Bob Brown
Sam Buss
Bob Harbort
John Mitchell
Meade Morgan
Hal Purcell
Ron Wood


---

"May the beer stay cold
the pizza stay hot
and the popcorn return"
The pizza background is copyright © 2014 by Josh LaFayette and is used by permission. Thanks, Josh!
---
Orignially posted: 2012-02-26


Last updated: 2020-01-24 17:58